For some, the best thing about traveling to a new city is the 'me-time' that a trip affords. Even if you have an agenda, there's always an hour or so left in the day for impromptu shopping or a stroll, or even a quick stop for some beauty. We've scoped out four fab salons in London for a marvelous manicure and pretty pedicure.
WAH Nails
36-38 Great Castle Street, West End
Open Monday-Saturday 9AM-9PM; Sunday 12PM-6PM
Trendy guru Sharmadean Reid is the creative force behind WAH, which caters to downtown style mavens looking for more than the average buff-and-polish job. As a brand, WAH Nails is taking on the world of manicures one finger at a time; their innovation has landed them in the middle of London Fashion Week, celebrity music videos, and launch parties for Nike, Marc Jacobs and Diesel. Clients of this cutting-edge brand rely on WAH to "translate fashion trends into fingertip art" using gems, wrappings and more for the ultimate set of funky tips.
Cheeky Holborn
198-200 High Holborn Road,
Open Monday- Tuesday 9AM-8PM; Wednesday- Saturday 9AM-9PM; Sunday 11AM-5PM
 As a body-care and cosmetics brand with a cult following all over the globe, Cheeky offers Londoners two locations to be personally primped by a knowledgeable technician. The hotspot's services include a variety of grooming options for men and women from a "no strings cut" to a "cheeky works manicure," with clients loving the lively atmosphere. Don't forget to check out their other Cheeky Parlour in Shoreditch!
Hula Nails
203-205 Whitecross St
Open Monday- Tuesday 11AM- 7:30PM; Wednesday 11AM- 9PM; Thursday- Friday 11:AM – 7:30PM; Saturday 11AM- 6PM; Sunday Closed
 Gorgeous pin up women and vintage tiki decor set the stage at Hula, where the mood is all about lighthearted fun. Beauticians sport a signature retro glam look as they cater to your needs, whether it's applying your perfect shade of spray tan with a feathery fan or carefully buffing and polishing your fingertips. Nail enthusiasts enjoy the salon's long-lasting sculpture gel manicures and pedicures which are reported to stay beautiful for about 2-3 weeks.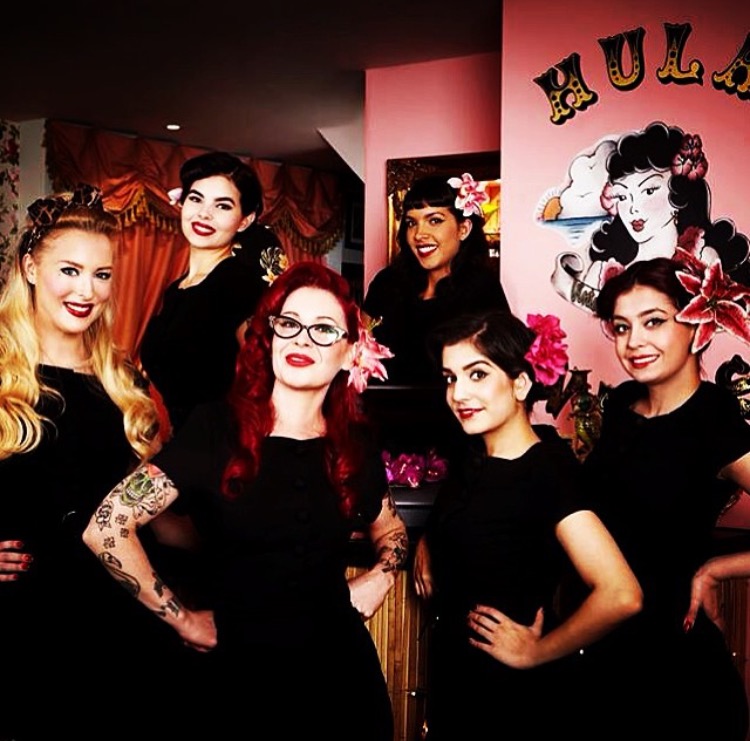 MW Nails
28 Tottenham Stwww.mwnails.com
Open Mon-Fri 10:00am- 8:00pm; Sat 10:00am- 6:00pm; Sun 10:00am- 5:00pm
Designed to resemble a first-class airplane cabin, MW Nails' chic interior sets the stage for an excellent nail experience. Your flight attendants are highly skilled beauticians that offer a wide range of grand treatments such as the "Two Weeks to Tahiti" gel manicure and "Tokyo Toes" pedicures. Join the "101 Mile High Club" for a luxurious mani/pedi and deep moisturization treatments.